In November 2012, Avvo, primarily known for its lawyer profile and rating service, launched a new tool to help streamline and maximize the use of online marketing platforms by law firms.  The product, Avvo Ignite Suite, is a robust client conversion solution.  It goes far beyond what a free Google Analytics account can do for your law firm.
To this point, I have received a customized product demo, and was fortunate enough to have the opportunity to speak with Avvo founder and CEO, Mark Britton, about Ignite.  So, I'm prepared to relay my thoughts about the system, as follows:
Let's begin with the basics.  Avvo Ignite Suite operates as an SaaS product; your data is stored in the cloud and accessed via a web browser.  Ignite's primary feature is automatic tracking of potential clients and contacts from online sources and telephone calls, in addition to offline sources (via manual entry).  First, once the potential client makes contact with the firm, the system acts as a content management system, allowing the firm to input information about potential clients and to track when contact is made by each potential client to the firm via phone, email, or web.  Then, each client can be assigned to a particular attorney at the firm, and follow-up reminders may be set.  As leads are converted to clients, your new clients can even make credit card payments, through thoughtful integration with a third party processor.  Those payments are then tracked within the client's record.  Avvo has partnered with Stripe to enable credit card processing.  No other vendors are currently available.  Finally, and maybe most importantly for purposes of determining return on your marketing investments, the system generates reports on client conversion, marketing expenses, and return on investment to help the firm improve its marketing efforts and performance.
The Ignite Suite costs $499 for set up (which can be waived with an annual contract) and is priced at a monthly rate based on the number of marketing channels (e.g.–websites, social media sites, telephone numbers, etc.) you will use and link to the program.  For five channels, a typical number, the cost is $199/month.  But, for any account type, Avvo assigns your firm a specialized account manager, for setup and support; and, that level of customer service can be particularly helpful, especially for those attorneys who are just getting started in applying some type of management system to better leverage their marketing efforts.  Before committing to purchase the Suite, Avvo offers a 14-day free trial and product demo.
Now, let's take a look at all the neat individual components of this program:
Upon sign-in, the system dashboard appears as a contacts database, with areas that denote "Status", "Label", "Assigned to", "Last update", and "Source".  The "Status" tab indicates whether the client is new, pending, current, former, or some other type (such as "did not hire" or "spam").  "Label" might indicate the type of inquiry or matter, such as "divorce" or "real estate".  New labels can be created at any point.  The "Assigned to" tab provides firms with a way to assign leads to attorneys, and then to track the rates of conversion by those individual attorneys.  "Last update" refers to the last action taken within the system, which might be a payment made, email sent/received, or call taken.  Last, but most certainly not least, is the "Source" tab.  This is where the rubber meets the road.  The "Source" tab tracks which marketing channel(s) the contact was procured from.  (Tracking sources is one of the primary report components and the basis for your return on investment analysis.  I'll delve more deeply into Sources below.)  Clicking on an individual contact opens up a detailed list, with information regarding any history of activity (including records for emails, calls, notes, and payments).  From the individual contact screen, users have options to send an email or to make a phone call directly to the contact, to create a follow up schedule, or to make notes.
Tracking Marketing Channels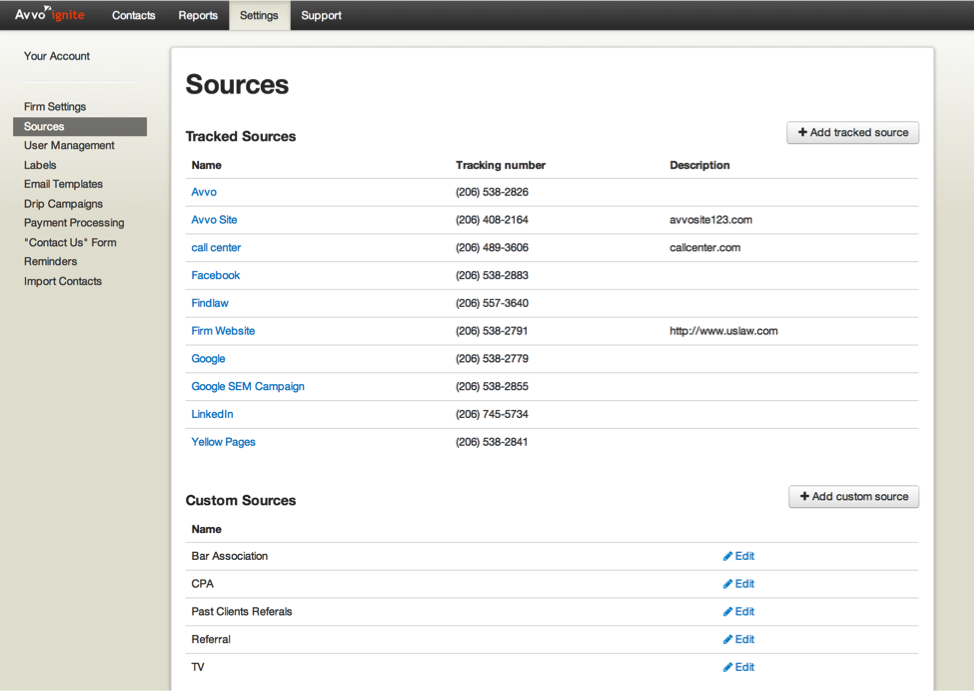 A significant component of this program is the source-tracking feature.  The "Sources" tab is a customizable feature that enables firms to determine how potential clients/contacts come to them.  "Sources" or "channels" might include the firm's website, Google search, social media, online directories, and/or telephone calls to the firm (with the caveat that, in order to collect call information through Ignite, the firm must use a designated phone number–though, it may select the area code).  Your account manager will assign unique phone numbers to each source; sources are tagged for identification and tracked through Ignite.  When a potential client/contact reaches out through one of the firm's Ignite-associated channels, both the contact and the source are automatically populated to the Ignite database.  Unlimited custom sources can be set up quite easily through the account settings panel; but, these must be manually assigned to each prospect.  Custom sources might include bar associations, individual referrers, and physical advertisements featuring the firm's main office number.
Notifications and Reminders
Notifications may be configured to provide a text message and/or email each time a prospect reaches out to the firm.  Setting a reminder to follow up with a prospective client can be accomplished through an individual contact's record.  However, the system does not yet integrate with Outlook or Law Practice Management Software; thus, reminders appear only within Ignite.  (Avvo representatives indicate that they are working on Outlook integration, as we speak.)
Through the account settings, firms can easily set up different email templates for automatic replies to prospects.  Settings can be configured based on a prospect's status, source, and/or label.  This way, a prospect will receive immediate attention after contacting the firm . . . and/or, regular follow-up, from time to time.  The one downside is that all emails reside within Ignite (again, Outlook integration and Law Practice Management Software would be helpful here).
The report function is the heart of this product.  There are three available reports:  1) Client Conversion; 2) Marketing Expenses; and, 3) Source ROI ("Return on Investment").  The Client Conversion report provides statistics on how many leads became clients, and which sources and assigned users generated the most clients.  Conversions can also be filtered by label (e.g.–practice area, or some other designation).  Reports may be generated based on a specific time frame, and can be exported via CSV file.  The Marketing Expenses and Source ROI reports are two of my favorite aspects of Ignite.  The Marketing Expenses report allows you to track how much money your firm has spent per month on certain marketing campaigns, and displays those results by graph.  Then, through the Source ROI report, you can determine whether your firm is generating value based on the time and money spent on each marketing campaign.  The Source ROI report aggregates and analyzes the most important marketing information, such as the following: how much money was spent per campaign; how many contacts/prospects/clients resulted from a campaign; and, how much it cost to acquire the average client for particular campaigns.  The Source ROI report generates graphical representations of the effectiveness of law firm marketing endeavors, providing a clearer picture of the performance of certain marketing platforms, and helping firms to improve their marketing efforts.
While I have detailed the functionality of Ignite above, you would be best served to do your own discovery: access a product demo; or, at least, take a look at the Ignite webpage.  (While you are there, you might want to check out Avvo's Ignite Starter package, a website development service that can accompany and integrate with the Ignite Suite — but, that need not be utilized in conjunction with it.)  You don't need to be technologically savvy to use this product; neither do you need to read a long product manual before digging in.  Built specifically for attorneys, this product is straightforward and intuitive — even the sleek design lends itself to ease of use.  Moreover, you don't have to learn how to construct or interpret complete reports; Avvo presents your data in a practical way, allowing you to utilize it in day-to-day operations, and as a basis for future business decisions.  Oh, and if you encounter any problems, remember that you'll have your own dedicated account manager to turn to for support.
Overall, I give this product two thumbs up.  While it may be on the expensive side for solo practitioners and smaller firms and could use some integration features (including with Outlook and other calendar/email services), this is a practical and simple tool for attorneys to use to maximize their marketing efforts.