After a busy 40th year of service, we invite you to take a look and see what our organization accomplished in FY18.
As an independent nonprofit organization, Lawyers Concerned for Lawyers is the exclusive Lawyer Assistance Program for Massachusetts and operates the Massachusetts Law Office Management Assistance Program. We've been serving the Massachusetts bar since 1978, and look forward to celebrating more milestones in the legal community.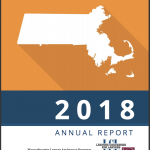 Our Annual Report illustrates the work we did during FY18 to advance our mission to promote well-being and resilience in the legal community, improve lives, nurture competence, and elevate the standing of the legal profession.
To flip through the pages, click here to view our FY18 Annual Report in e-reading format.
You can also download the FY18 Annual Report PDF here.