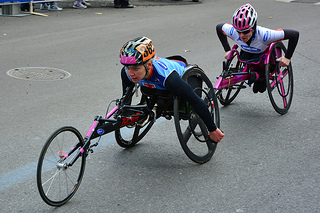 Most attorneys spend their entire careers fine-tuning the art of managing the attorney-client relationship. Each attorney-client arrangement is different, of course; but, there are special situations that require deeper consideration than your more run-of-the-mill engagement. Attorneys who are considering working, or who will work, with disabled clients, must determine how they will rearrange their processes, to respect their clients' needs. Today's guest blog post proffers some advice for working with disabled clients, and highlights some resources in that same vein.
We are grateful for the efforts of guest bloggers Brian McLaughlin (and his assistant, Christine Poole) and Wendy Hickey.
. . .
As a lawyer, representing clients from all walks of life can be exceptionally challenging; but, it can also be very rewarding — especially if you have never been exposed to clients from a range of backgrounds. Assisting disabled clients, however, carries with it unique challenges; and, the difference between the representation of a disabled client, and that of a typical attorney-client experience, will become readily apparent. As it is with much of legal practice, effective assistance to a disabled client is more a matter of experience than deep insight. Through this post, I'll share some of my experiences, as well as some practical tips respecting the representation of disabled clients, with the hope that sharing some commonalities of interest will enlighten those who have not yet had the opportunity to so engage.
. . .
The first time you may have to adapt your usual approach would be for the client interview. However, you'd be best served to consider these issues even before that: at the initial phone screening. If a potential client calling in mentions assistants or mail openers, then that would be an appropriate opening to follow up with further questions, in order to determine the nature of the disability. You should also inquire of the potential client whether there is anything you can do, specifically, to accommodate her, in order to help to make communication easier.
After you have ascertained your potential client's disability during prescreening, you should do some background reading on the disability, before you meet with him. Two great websites for finding general information respecting different disabilities are accessible here and here. The background research you do can help you to counsel your client more effectively. As with most elements of practicing law, effective preparation is 99% of the battle, too, when it comes to successfully kicking off the attorney-client relationship with a disabled person. Even a cursory reading of a Wikipedia article covering the disability in question can be extremely helpful in setting up for the initial interview.
Doing your background research will also allow you to start thinking about how to adapt your standard approach to better serve your new client. For example, when I'm working on a divorce case (and I'll allude to examples from divorce practice frequently, as it's one of my primary areas of focus), and discussing the division of assets, my favorite metaphor, for purposes of educating my clients, is to tell them that is how we 'divide up the pie.' However, when I'm representing an individual who is visually impaired, that metaphor's not so helpful: he's never even seen a pie to divide. Excuse the pun, then — but, it's clear that, when you're dealing with disabled clients, it's helpful to know how they consume information. If, for example, your client does not have the full use of her hands, that would necessitate her use of a speaking assistive language software, or a screen reader; and, this will require you to provide the client her documents in a format that is accessible via those devices, usually as a scanned PDF. Signatures can also require special consideration: people with physical limitations will often have either a stamp or someone to sign documents for them.
. . .
After you've familiarized yourself with your client and his situation, you should begin to think about how your client's disability might affect your first in-person interview. Accessibility is a primary issue respecting the representation of disabled clients. When you're setting up you first meeting with a disabled client, best practice is to have a candid conversation with the client about what she will need by way of accommodation. You should also check and make sure that the location at which you're meeting is accessible to persons with disabilities. This may become a unique challenge for you — if your office space is not handicapped-accessible, and if you're not used to meeting with clients outside your office.
While we are accustomed to doing most of our work in our offices, there's no real requirement (aside from convention) that we do so. All that is really necessary is a quiet and (especially) private place, so that confidentiality, and attorney-client privilege, can attach. You could use a neighbor's conference space, or even make a house call. If your client uses assistants to open his mail, accountants to do his taxes, and other service providers, you may want to consider interviewing those persons, as well — in some cases, the service providers will be better acquainted with the client's correspondence or finances than the client will.
. . .
Clearly, it's useful, in representing a disabled person, to inquire as to accommodations respecting specific disabilities; but, it also helps to consider some of the basic challenges common to the disabled community. Some of the realities of living as a disabled person are quite sobering. Among the disabled, there is an increase in the numbers of those affected by domestic violence. Many disabled persons lack in financial education. According to the 2010 United States Census, nearly 28% of the disabled population lives in poverty = less than eleven thousand dollars in annual income. Disabled men and women have a lower median income (by roughly six thousand dollars) than the general population. Therefore, the ability to bring flexibility to your payment arrangements can be an important factor in representing disabled individuals. Like many populations with limited financial resources, disabled clients can benefit from limited assistance representation and flat fee arrangements, both of which options increase a lawyer's flexibility as respects billing.
The availability of quality representation for disabled persons is especially important when viewed in the context of the increased risk for domestic violence and coercion that disabled persons face. The issue of domestic violence among individuals with disabilities is largely due to power dynamics, and is exacerbated by the fact that so many disabled persons live in poverty. These continuing issues are perhaps best summed up by the following quote from, 'Violence and Abuse Against People with Disabilities: Experiences, Barriers, and Prevention Strategies': 'You finally say, "Okay this is it. I'm going to do whatever I can to change this marriage. And by the way, can you bring my scooter to me so I can leave you?"' The effect of domestic violence on disabled victims is different, in two distinct respects, than it is for nondisabled victims: For one, a caregiver can withhold a disabled person's equipment, reducing or eliminating the disabled person's ability to move, and compelling behavior through fear of backlash. For disabled women, rates of physical and sexual abuse are approximately twice those typically found for nondisabled women. As the attorney for a disabled person, you can become watchful for these issues, and can advise your clients as to appropriate steps to take if coercion or abuse occur. Caregivers are often significant others or paid, personal assistants. Naturally, if the caregiver is a spouse, the power dynamic can play out during a divorce in a variety of ways. Often, disabled people can feel dependent and non-autonomous. This can bleed over into many aspects of the divorce, especially respecting financial planning and the acquisition of new housing.
The final issues I would like to address are financial literacy and housing, as these relate to disabled clients. Oftentimes, due to a variety of factors, a disabled person will be less financially literate than a member of the general population. A disabled person may become further marginalized in this way, starting at a young age (when it's tougher to find a summer job, with accommodations); but, the problem often extends through adulthood. When a 2010 study concluded that more than 50% of the available income of a disabled persons is used to pay for housing (for those on SSI, it can be as much as 112%), it's clear that, whatever level of financial literacy a disabled person can bring to bear, they're applying it to a smaller percentage of their income than would a nondisabled person, whose income is devoted to housing at a generally lower percentage. Certainly, access to affordable housing can be extremely difficult to find for disabled persons. Issues related to housing almost always crop up in divorce cases; and, the stark transition of divorce will always force the parties into a revision of their financial landscape. It's important to educate your divorce clients as to their financial independence; and, that goes double for your disabled clients, who are at a distinct disadvantage when it comes to managing money and finding affordable housing. If you're looking for further assistance for your clients, Easter Seals offers a financial literacy program; the organization also provides loan repayment assistance for the retrofitting of homes, and will, in some cases, become a third party guarantor of a loan where a disabled person is not able to pay for costs related to home modification. The Massachusetts Rehabilitation Commission administers a program that provides assistive technology to eligible persons. The Disability Law Center can be an invaluable resource, as well, and delivers monthly seminars on housing law, and related topics, for people with disabilities. While you won't be able to provide direct solutions for all of the challenges that your disabled clients meet, understanding their situations, and being able to recommend further resources, will make you a more effective advocate.
. . .
In general, knowing even just a little bit more about the background of your disabled clients will greatly improve your ability to service their cases. It is important, though, to remember that disabilities vary greatly and can appear in many different forms; and, this post is only a generalized summary of the issues that may arise in representation of a disabled person.
For me, personally, representing disabled clients has been an extraordinarily rewarding experience; and, I hope that this post, in addition to helping you to navigate some of the more common issues that may arise during such a representation, will help you to succeed in having a productive and beneficial attorney-client relationship with the disabled persons that you serve.