The popular Mac Lovin' fest is back this October 23-25 at Disney's Yacht Club Resort.  If you use (or are thinking about using) Mac or iOS products in your law practice, this conference is for you.  MILOfest is an outgrowth of the Macs in the Law Office Google Group (MILO), a discussion listserv for legal professionals using Macs and iOS products in their law offices.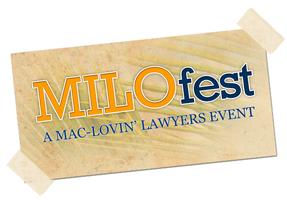 MILOfest brings together legal professionals around the continent to network, share tips, and learn how to get the most of out their Apple products in the office. If you are a frequent conference-goer, you can be sure that the content at MILOfest will be like none other.  MILOfest organizer, Victor Medina, hand picks expert speakers to present on topics/material of first impression only.  Also unique about this conference is that attendees are given unfettered access to some of the most well-know Mac legal experts in the world.  If you are familiar with the Mac legal community, you'll recognize names such as Jack Newton, Larry Port, Randy Juip, Justin Kahn, Brett Burney, Chad Burton, Katie Floyd, Mark Metzger, and Mark Merenda; and those are just a few of the past years' speakers.  Each year, Victor holds an open dinner for participants, speakers, and sponsors on Thursday evening.  If you've never attended this conference, this is a great entre to the community.
Because we are special (or at least we think so), Victor has offered us a discount code to be applied toward your registration fee.  The code "LOMAP" is good through August 15th.  
If you would like to learn more about the conference, you can read my recap post from last year's MILOfest, here, and listen to an interview with Victor Medina on the Legal Toolkit podcast, here.
For additional Mac and iOS legal resources, please visit Mass LoMac.  Mass LoMac offers monthly meetings in Boston (with remote participation options) for Mac and iOS attorneys to discuss workflows, products, programs, and more.