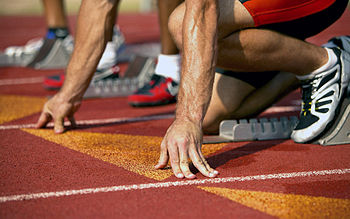 Many
new
lawyers I talk to are reluctant to
start blogging
, even as it's a tremendous
content marketing
tool that is one of the best ways
for lawyers to build their expertise, and their following
. A variant of the same, simple protestation is always made: 'But, What can I write about? I'm not an expert.'
Of course, that's
entirely the point
— especially when you're starting out. What most new lawyers gloss over is a roadmap to expertise; they know the direction; but, they don't always know the
route
to take. Certainly,
there's more than just the one road
; but, blogging remains a powerful tool for professional development for lawyers, particularly for starting lawyers.
This is especially so when you're blogging for/to potential clients, the vast majority of whom will know less than you do about the law generally, and so your practice area specifically.
Writing things down helps you to retain information
; and, researching and writing does you one better. Therefore, the crafting and publication of blog posts becomes a learning experience for both new lawyer and new client.
New lawyers are generally wary of making mistakes, which can often serve to decrease the likelihood that a mistake is made, particularly where new lawyers do tend to be more careful and thorough when treading upon new areas than veteran lawyers are. But, if you do feel as though you are taking the wrong approach to an issue, that's a perfect opportunity to
acquire
, or to
access
, a mentor. Run your post by someone who you feel is a true expert. You may also want to consider providing a preview to a layperson, if you want to be sure that you are not writing over the heads, or past the interest levels, of your potential clients.
(Besides, it's the internet; if you want to revise a post, you can; and, if you want to update a post, that's a great excuse to repurpose old content.)
If you
find a particular niche
that you believe is underdeveloped online, you'll have the space and freedom to potentially advance your expertise (or, at least, the perception of it) at a greater rate; and, you could end up serving as an information repository for other lawyers, which is likely to
generate referrals
. Of course, you can write for other lawyers, for referrals of business, without a focus on a niche; a thing done well is often its own reward — and sometimes, that reward is a fast-growing reputation among your peers.
As you tick down a list of excuses for not blogging, you may find that it's easier to jump in
, rather than just watching others swim with the current.
This post originally appeared in the Massachusetts Bar Association's eJournal.